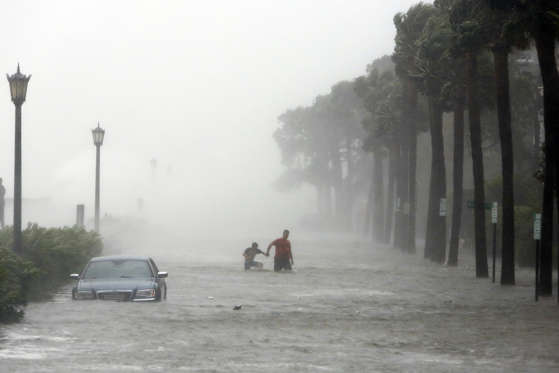 Fifteen million people in Florida and almost 1 million more in Georgia remained without power Tuesday as the region struggled in the aftermath of Hurricane Irma, federal officials said.
Christopher Krebs, assistant secretary for infrastructure protection at the U.S. Department of Homeland Security, said power restoration was a priority as the region begins the complex task of recovery from the devastating storm.
"I do ask that everyone have patience, this is going to take some time," Krebs said Tuesday. "In some circumstances it will be about rebuilding."
Gov. Rick Scott said power had been restored to about 1 million people by Tuesday morning. More than 30,000 out-of-state utility workers were aiding the effort to turn lights on across the state, he said.
Scott also said all the state's highway and turnpikes were open, and a massive effort was underway to get gas to service stations.
rma, which smashed into Florida on Sunday as a Category 4 hurricane with 130 mph winds, weakened to a post-tropical cyclone Tuesday with sustained winds of about 25 mph. The center of the storm was 65 mph southwest of Atlanta at 5 am ET.
The storm brought havoc to Georgia and South Carolina as well. More than 500,000 people evacuated Georgia's coastal communities, some of which saw storm surge running through their streets. Dozens of roads were closed due to flooding in and around Charleston, S.C.
Six deaths in Florida have been blamed on Irma, along with three in Georgia and one in South Carolina. At least 35 people were killed in the Caribbean last week.
More: Irma weakens, chainsaws buzz in battered Florida
More: In Hurricane Irma's wake, 3 takeaways on the costs
Irma first made landfall on the Florida Keys, then again later Sunday on Marco Island on the state's Gulf Coast. The storm roared north, flooding streets, toppling trees and power lines and snapping construction cranes.
Authorities on the Florida Keys on Tuesday began allowing residents and workers to return to the upper islands in the chain — Key Largo, Tavernier and Islamorada. But the damage to the islands, particularly the lower islands, was catastrophic.
FEMA Administrator Brock Long told CNN about 25% of homes on the Keys were destroyed, and another two-thirds were damaged. 
"Basically, every house on the Keys was impacted," Long said.
Still, some Keys evacuees regretted leaving, complaining about price gouging at hotels and stores in Homestead, the last city on the mainland.
"I've learned my lesson, learned it the hard way," David Hutchison said. "I'll never evacuate again."
North Florida was not exempt from Irma's wrath. Scott and Jacksonville Mayor Lenny viewed the flood-damaged city near the Georgia border from the air Tuesday.
"We were shocked yesterday when the flooding started happening here," Scott said. "Thank god everybody helped everybody."
Curry said 356 residents were rescued from the floodwaters by emergency response teams.
"It was a sight to be seen," Curry said. "Now we just begin to rebuild."
In Georgia, the body of a 62-year-old man who climbed a ladder behind his Worth County home was found under debris on the roof. Another man, in his 50s, was killed just outside Atlanta when a tree fell on his house, and a woman died when a tree fell on a vehicle in a private driveway, according to the website of the Forsyth County Sheriff's Office.
To the east, heavy wind and rains inundated South Carolina's coast Monday and heavily flooded Charleston.
Charles Saxon, 57, became South Carolina's first recorded death when he was struck by a tree limb while clearing debris outside his home in Calhoun Falls amid wind gusts of about 40 mph, according to a statement from Abbeville County Coroner Ronnie Ashley.
Further north, remnants of Irma were likely to mean a rough Monday night and Tuesday morning for much of western North Carolina, although exact impacts could vary widely, the National Weather Service said.
The worst problems from heavy rain and high winds forecast were expected to be scattered.
"Things are looking better for us, but we're not out of the woods yet and we don't want any surprises," North Carolina Gov. Roy Cooper said at a briefing Monday. "People still need to pay careful attention to the forecast and be prepared."
More: Florida Keys evacuees frustrated in the trek to go home
Overall, Irma was an unpredictable, powerful storm that kept forecasters guessing, even after landfall. One of the nation's top meteorologists says the storm could have easily been a Category 5 with 15-foot storm surge and 150 mph winds.
Meanwhile, Hurricane Jose is now meandering around the western Atlantic Ocean roughly 300 miles northeast of the Turks and Caicos Islands. Any potential direct hit from Jose wouldn't be until next week, however.